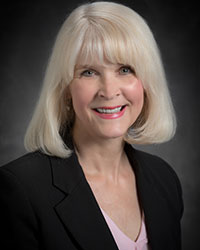 PRESIDENT'S MESSAGE
Happy New Year! I hope all of you had a blessed holiday season!
Greater Houston Council started the year off with a wonderful celebration on January 5th. We had over 260 people join us at the Junior League for a luncheon celebrating 55 years since Greater Houston Council's inception. Tributes were given recognizing the contribution that President and Barbara Bush, Harris County Judge Ed Emmett and all of our past presidents have made to our organization and the Republican Party. (Check out the pictures from the luncheon on our webpage.)
I want to thank again the Luncheon Chairs (Cheryl Dalton, Carolyn Hodges, Jan Ott, and Diane Sloan) for hundreds of hours organizing the event, Kim Icenhower for the program, Barbara Tague for the power point, and Rajada Fleming for the poster recognizing our hosts, sponsors, and member clubs. A shout out to Kim Bailey and Bobbi Robinson for their fundraising efforts and our entertaining emcees – Patricia Harless and Jim Bayless. As many of you know, for an event like this to be successful, it takes hundreds of hours of work, attention to the details, and the stars to be aligned (ie, no hurricanes or major storms). This celebration would not have come together without each of our volunteers and the support of our member clubs, elected officials and candidates. Thanks for your support of the Greater Houston Council!
I'm excited about the new year and serving as your president. We have a great board with a lot of enthusiasm and ideas to continue the work that has been done by our past presidents and their boards. This includes the 2018 Nuts N Bolts Seminar for our clubs' leaders and members on February 6th – where you will learn how to make your club the best that it can be. (Go to GHCFRW.org for how to register for Nuts N Bolts.)
It's easy to get frustrated with the daily biased and negative news reports. The media's portrayal of the Republican Party as a dis-functional party of hate is not the Party that I know. As Republican women – we know better! So, with the new year -my resolution for GHC is to "Raise the Bar!" I challenge each of you and your clubs to do the same! Make a new year's resolution to increase your club's membership by 10%; find a Republican candidate to support with your money and/or your feet and give them $100 or 100 hours of your time knocking on doors for them; and campaign to become a delegate to the state convention next summer. Lastly, let's remove the word "RINO" from our vocabulary and send a positive message that we're the party that's inclusive – the party of results and hope for a better future for all Americans. By raising the bar – we will beat the Democrats in November and keep Texas RED!
Warm regards-
Cindy Siegel
President – Greater Houston Council