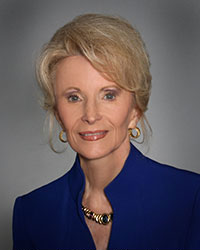 PRESIDENT'S MESSAGE
Welcome to the 'shortened' summer edition of our Newsletter to keep in touch with our busy Republican Club Members and prepare you for what is to come this fall.
This week, everyone gathered at the federal courthouse in San Antonio for the federal redistricting litigation. The legal proceedings over the state's maps for legislative and congressional districts is being heard by 3 federal judges to determine if the maps are illegal and need changes. Hopefully, this important hearing will leave the current maps in place and the legal fight over redistricting goes our way.
Our sincerest congratulations go to former Senator Kay Bailey Hutchinson with her nomination by President Trump as Ambassador to NATO.
Texas' Special Session of the Legislature begins July 18, 2017 and will end no later than August 16, 2017.
Don't miss your Invitation for our 55th Celebration in the NL. You'll want to rsvp immediately and reserve your ticket on our website ghcfrwpac.org. Start planning now how your club will decorate your table and be part of the contest awarding a monetary prize for the top 3 tables.
Have a great rest of the summer and we'll see you October 6, 2017!
Cheryl Dalton
President, Greater Houston Council