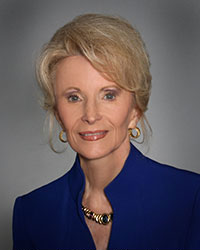 PRESIDENT'S MESSAGE
During and after Hurricane Harvey came to shore in Port Aransas on August 25, Cheryl Dalton, President of GHC had been in contact with the Club Presidents of Council. In a conversation with one of the Club Presidents, Cheryl Draper, President of RWOYA, she told her how devastated their area was and how hard everyone had been hit. She stated that Port Aransas had been 'flattened'.  RW of Yoakum Area is a member of Greater Houston Council of Federated RW.
On Saturday August 26, Cheryl Dalton was contacted by Rachel Martin of the California Federation of Republican Women who said they wanted to help and send a donation of supplies to Houston asking where would be the best place for it to be used.  Cheryl conferred with Theresa Kosmoski, President of TFRW who responded to Rachel to send gift cards to TFRW to be distributed.  Several days later, Rachel then contacted Cheryl with news that they wanted to not only send gift cards but were holding collection centers in San Francisco, Los Angeles, and Sacramento and had supplies they were bringing to Houston for our area.
After much back and forth between Cheryl Dalton and Rachel Martin, it was determined they would be bringing a large semi trailor truck load and would have it here within the week.  This happened to be the day that the Mayor of Houston announced they would not be taking any more donations.   So Cheryl, not wanting to turn down the supplies these wonderful RW had collected for us, recalled her conversation with Cheryl Draper of the terrible devastation that area endured and was still enduring.  Cheryl Dalton called Cheryl Draper who was ecstatic for the news of help for her area counties and immediately got busy organizing other RW in the area to establish a drop-off point where they could then distribute to the surrounding areas who were also in desperate need.
Sooooo the plan was in place and Republican Women in Port Aransas, Rockport, Moulton, and Yoakum were busy preparing to receive the supplies.  They were delivered to Moulton High School who had trucks in place and divided the supplies to send to other destinations from there.  Rachel Martin flew in with her fiance and sent a second truck of supplies the following week to this hard hit area.
Never forget that Republican Women get work done and they do it BIG!  We cherish the strength of our sisters, and we stick together to help each other….
This is why the Greater Houston Council Coalition is so effective….we appreciate your Club Membership and having you participate in our training activities and meetings and look forward to seeing you at our next meeting, November 14 to celebrate our Veterans.  At this meeting, we will bring gift cards from Visa, Master Card that can be purchased at our local grocery stores in any amount to be given to Camp Hope outside of Houston which is a PTSD Treatment Facility.  Stay tuned for more details to come.
Cheryl Dalton
President, Greater Houston Council