Republican Events
RWCK Christmas Luncheon & Ornament Exchange
December 1, 2016
Location:
The Golf Club
at Cinco Ranch
23030 Cinco Ranch Blvd
Katy, TX 77450
Time: 11:00am - 1:00pm
Nuts N' Bolts
January 17, 2017
Spotlight
The Montgomery County RW recently made blankets to be given to the Salvation Army for use by the homeless in the area.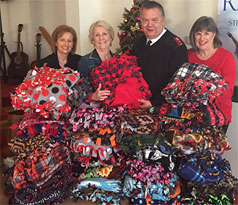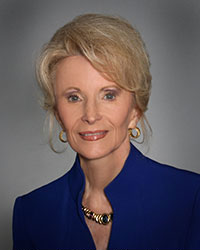 Cheryl Dalton, PresidentGHCFRW President Message: Friends and fellow Republican Activists….isn't VICTORY sweet as we bask in the rewards of our Presidential Election last Tuesday….what excitement I am seeing across the country from Business Owners, Corporate Executives, people like us who worked night and day to get President Elect Trump elected and even folks who never voted for a Republican before. A truly monumental VICTORY!
Thank you everyone for the work you did supporting this election both before and the day of the election….it paid off for us and if you are like me, you feel a great sense of accomplishment for the long hours and tiredness that still prevails. This is activism that worked.
We do not have details of what happened in Harris County to our wonderful judges and County Officials who were defeated. They worked their campaigns with so much enthusiasm and showed their absolute qualifications that we are saddened by this great loss.
Our November meeting features Dr. Neil Frank as he presents a wonderful report on Global Warming and its relevancy to our lives…is it fact or yet again fiction….don't miss him and you'll find out once and for all.
Also, Stan Stanart, Harris County Clerk of Court of Elections, is making the rounds and will stop by to give us figures and information on the voting that took place last week. Stan also works with surrounding counties as we all try to streamline our voting standards, so he will touch on your county as well. Very good information after an election like we just had.
Don't forget that on January 17th, Greater Houston Council will be holding our annual Nuts N' Bolts in conjunction with honoring the Club Presidents. Work on Nuts N' Bolts has been underway for some time now and I can tell you this promises to be an outstanding educational program that will give you many answers for running your clubs. You won't want to skip this great program.
Have a Happy Thanksgiving and we will see you in January!
Republican Women of SJC

Board of RW of San Jacinto County

Kingwood Republican Women

Republican Women Club of Katy

West Pearland Republican Women

Magic Circle Republican Women
Member Club Events
GHC Meeting Dates
General Meeting: 9:30am
January 19, 2016
March 22, 2016
May 17, 2016
September 20, 2016
November 15, 2016
Executive Meeting: 10:00am
February 16, 2016
April 19, 2016
June 21, 2016
August 16, 2016
October 18, 2016
Copyright © 2007 - 2016 by Greater Houston Council of Federated Republican Women. All Rights Reserved.
Custom Web Design, Website Maintenance and Web Hosting by: Texas Webmaster, LLC