Republican Events
Texas Legislative Roundup
September 30, 2016
Location:
Holiday Inn Express Houston Southwest
14444 Hwy 59
Sugar Land, Texas 77478
Time: 11:00am - 1:00pm
US Presidential Election 2016
November 8, 2016
Spotlight
The Montgomery County RW recently made blankets to be given to the Salvation Army for use by the homeless in the area.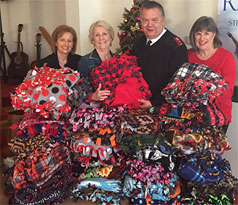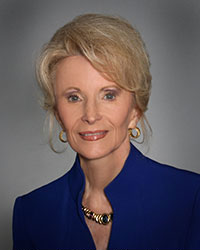 Cheryl Dalton, PresidentGHCFRW President Message: This has been such a busy summer in so many ways as we prepare for the Presidential Election in November. The RNC Convention came and went and was very successful in Cleveland, Ohio. Thank you to those of you who were delegates and alternates to the convention for representing our great state! Now Texas is ready for the fight of the century to help elect our nominee Donald J. Trump as President of the USA and all of our fabulous candidates down the ballot. We are all pleased to hear that Commissioner George P. Bush is Chairman of Victory 2016 and is solidly behind Donald Trump, ready to make sure he becomes our next President.
In August, Greater Houston Council hosted Unite to Win for TFRW, Abbott University, Texas Republican County Chairman's Association, and the Republican Party of Texas to train activists in how to meet voters on all levels and GOTV. Drew McCall from Abbott University conducted a Powerpoint Presentation on many topics including how to use Social Media. Other speakers were Theresa Kosmoski, President TFRW, Josh Jones and Kayla Hensley from the Trump Campaign, and County Chairs, Mike Gibson and Paul Simpson. We had a large crowd of around 100 attendees who said how much they learned and this motivated them to get involved and start working for the election.
September 20, 2016, Greater Houston Council is pleased to have the Honorable Tom DeLay as our featured speaker for our general meeting for all Member Clubs and their members and guests. Also on the program will be the Honorable Corbett Parker who will teach us how we all can use our Social Media for the benefit of the election to reach more voters. Bianca Gracia, co-founder of a grassroots effort of Hispanics for Trump will also speak and tell us why they support Donald Trump and how we can be involved with them. Our meeting focuses on the election and what each one of us can do in our small way to affect the outcome in November. Be sure not to miss this outstanding program we have planned for you.
• September 26 – First Presidential Debate
• October 4 – Vice Presidential Debate
• October 9 – Second Presidential Debate
• October 19 – Third Presidential Debate
• October 24 – First Day of in person early voting
• October 31 – Last day to receive application for ballot by mail
Election Clerks are needed in every county for early voting…if you can spare any time, please be sure to volunteer to help. Also there are several Satellite Party Headquarters around that can use your help….contact HCRP for a list of the person in charge at each location. See you in September at our great meeting and get ready to fight for this election.
Board of RW of San Jacinto County

Kingwood Republican Women

Republican Women Club of Katy

West Pearland Republican Women

Magic Circle Republican Women
Member Club Events
GHC Meeting Dates
General Meeting: 9:30am
January 19, 2016
March 22, 2016
May 17, 2016
September 20, 2016
November 15, 2016
Executive Meeting: 10:00am
February 16, 2016
April 19, 2016
June 21, 2016
August 16, 2016
October 18, 2016
Copyright © 2007 - 2016 by Greater Houston Council of Federated Republican Women. All Rights Reserved.
Custom Web Design, Website Maintenance and Web Hosting by: Texas Webmaster, LLC