Republican Events
TFRW SD 11 RW Club Rally
February 17, 2018
Location:
Billy's Hall
Republican Primary Election
March 6, 2018
Spotlight
A heartfelt "Thank You" to friends and elected officials for their support of our 55th anniversary.

Click here for more details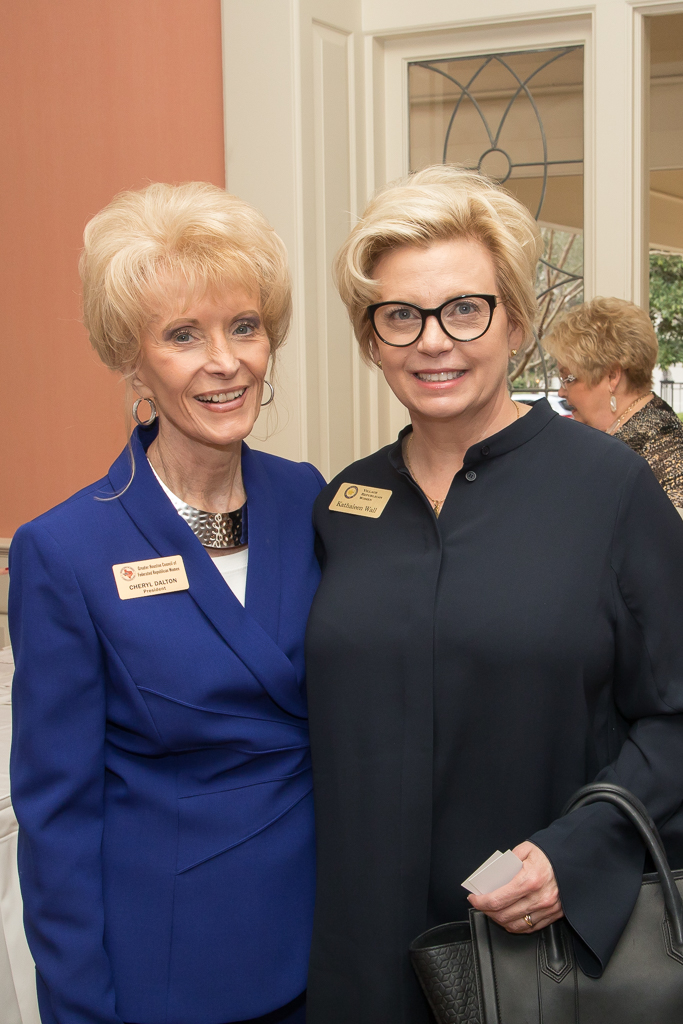 Past President Cheryl Dalton and Luncheon Underwriter, Kathaleen Wall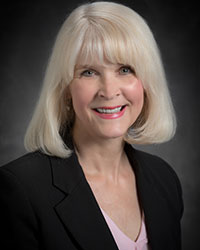 PRESIDENT'S MESSAGE
Happy New Year! I hope all of you had a blessed holiday season!
Greater Houston Council started the year off with a wonderful celebration on January 5th. We had over 260 people join us at the Junior League for a luncheon celebrating 55 years since Greater Houston Council's inception. Tributes were given recognizing the contribution that President and Barbara Bush, Harris County Judge Ed Emmett and all of our past presidents have made to our organization and the Republican Party. (Check out the pictures from the luncheon on our webpage.)
I want to thank again the Luncheon Chairs (Cheryl Dalton, Carolyn Hodges, Jan Ott, and Diane Sloan) for hundreds of hours organizing the event, Kim Icenhower for the program, Barbara Tague for the power point, and Rajada Fleming for the poster recognizing our hosts, sponsors, and member clubs. A shout out to Kim Bailey and Bobbi Robinson for their fundraising efforts and our entertaining emcees – Patricia Harless and Jim Bayless. As many of you know, for an event like this to be successful, it takes hundreds of hours of work, attention to the details, and the stars to be aligned (ie, no hurricanes or major storms). This celebration would not have come together without each of our volunteers and the support of our member clubs, elected officials and candidates. Thanks for your support of the Greater Houston Council!
---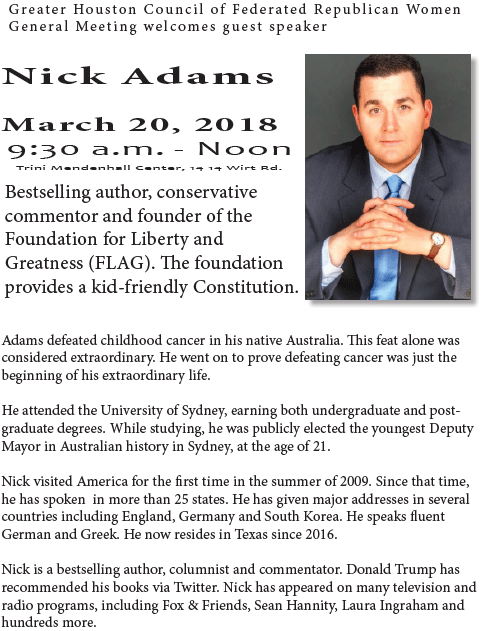 GHCFRW past presidents at 55th Anniversary Luncheon

55th Anniversary Luncheon Chairs

55th Anniversary Luncheon

55th Anniversary Luncheon Congressman Culberson

55th Anniversary Luncheon Congressman McCaul

55th Anniversary Luncheon TFRW, NFRW, and GHCFRW Recognition of President George and Barbara Bush

55th Anniversary Luncheon County Republican Chairmen

Republican Women of SJC

Board of RW of San Jacinto County

Kingwood Republican Women

Republican Women Club of Katy

West Pearland Republican Women

Magic Circle Republican Women
Member Club Events
GHC Meeting Dates
General Meeting: 9:30am
March 20, 2018
May 15, 2018
September 18, 2018
November 20, 2018
Executive Meeting: 10:00am
January 16, 2018
April 17, 2018
June 19, 2018
August 21, 2018
October 16, 2018
Copyright © 2007 - 2018 by Greater Houston Council of Federated Republican Women. All Rights Reserved.
Custom Web Design, Website Maintenance and Web Hosting by: Texas Webmaster, LLC