Republican Events
Republican Women's Club of Katy New Member Wine Social
August 25, 2016
Location:
Golf Club at Cinco Ranch
23030 Cinco Ranch Blvd
Katy, Texas 77450
Time: 6:30pm - 8:30pm
Galveston RW - Sailing Into Our Future
August 26, 2016
Location:
South Shore Harbor and Resort
2500 South Shore Blvd.
League City, TX 77573
Time: 6:00pm
General Meeting
September 20, 2016
Location:
Trini Mendenhall Sosa Community Center
1414 Wirt Road
Houston, Texas 77055
Time: 9:30am
Spotlight
The Montgomery County RW recently made blankets to be given to the Salvation Army for use by the homeless in the area.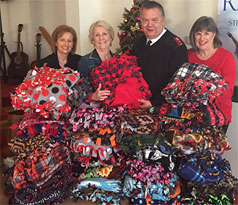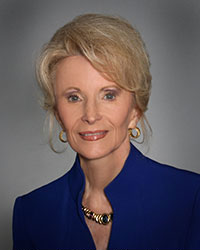 Cheryl Dalton, PresidentGHCFRW President Message: This summer brings us full swing into the Presidential Election Cycle culminating with the election November 8, 2016.  It is critical every one of us works hard all summer to keep Texas a red state and elect our Republican Presidential Nominee, Trump, for President.  Keep in mind we do not have to be 'in love' with the nominee but remember that the American People have spoken and made Mr. Trump our Republican nominee and if we do not come together and vote for him in November, the alternative is 4 more years of Obama and worse with Hillary as President.  Don't stay home, don't let the media create doubt, and don't criticize Trump causing others not to vote for him.  Republicans need to get back in office in the Presidency of the United States and this is our chance.
It was good to see so many of you at the Texas State Republican Convention in Dallas this year.  It was such a great time and I know you join me with congratulations to every person who had a part in making it such a success.  Our State Party Chair, Tom Mechler, was re-elected, as was our Vice – Chair, Amy Clark, and many others.  TFRW held a very enjoyable Tribute to Women Luncheon with Speaker Joe Strauss, Lt. Gov. Dan Patrick, and Sen. John Cornyn speaking to a sold-out crowd at the Omni Hotel (where, incidentally TFRW will be holding their bi-annual convention in 2017).
On August 20, 2016, Representatives from the Governor's Office will coming to Houston for a GOTV Conference for Houston and the surrounding area.  It is being held in conjunction with TFRW, Texas Republican County Chairmen, and Greater Houston Council.  Since it is in Houston, GHC has been charged with organizing the details.  I have scheduled it for August 20, 2016 at the Harris County Republican Party Headquarters, 7232 Wynnwood, Houston, 77008, from 10:00 -3:00p.m. including free lunch for all attendees.  Keep watch for further details as they become available.  Be ready as I will be calling you to volunteer for the many jobs needed to make this event successful with our joint effort.   We will need all of our clubs involved!!!
Governor Abbott is passionate about GOTV across Texas to keep Texas Red and put a Republican back in the White House, and he has put together this program to train us on the most effective way to reach as many voters as possible….so bring your iPads, your friends, and your relatives and get ready to GOTV.
At our next meeting September 20, 2016, Hon Tom DeLay will be our guest speaker, inciting everyone for the upcoming election reminding us how important it is, especially this year.  Also we will have someone from TFRW give us ideas on using our Facebook, Twitter etc in a way that will reach additional voters, especially the millennials.
So take time out to join us August 20 at Harris County Republican Headquarters and again September 20, at Trini Mendenhall Community Center.  See you then!!!
Send me ideas of how your clubs are working for the election this summer and we will include them on GHC's facebook page.
Kingwood Republican Women

Republican Women Club of Katy

West Pearland Republican Women

Magic Circle Republican Women
Member Club Events
GHC Meeting Dates
General Meeting: 9:30am
January 19, 2016
March 22, 2016
May 17, 2016
September 20, 2016
November 15, 2016
Executive Meeting: 10:00am
February 16, 2016
April 19, 2016
June 21, 2016
August 16, 2016
October 18, 2016
Copyright © 2007 - 2016 by Greater Houston Council of Federated Republican Women. All Rights Reserved.
Custom Web Design, Website Maintenance and Web Hosting by: Texas Webmaster, LLC