Republican Events
Texans for Trump Rally & Fundraiser
April 30 , 2017
Sine Die for 85th Texas Legislative Session
May 29, 2017
Spotlight
Montgomery County Republican Women made donations to several worthy organizations at its December meeting. Receiving contributions were the Conroe Hispanic Task Force, the Conroe High School Republican Club, the Magnolia High Schools Republican Club and the Caney Creek High School Republican Club.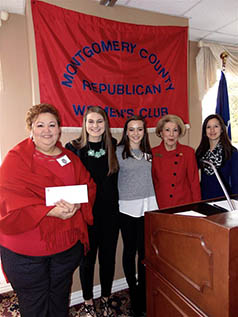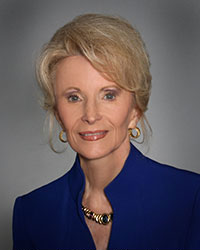 PRESIDENT'S MESSAGE
Don't forget TFRW's Legislative Day is April 6 at the Capitol in Austin. If you have not registered yet, you can still do that, just go to click here for registration information.
If you are not sure what you can do if you go for Legislative Day, you will want to attend Greater Houston Council's next meeting, March 21,2017, 9:30a.m. at the Trini Mendenhall Center. We will be holding a panel discussion of current and past elected officials on the Strategies you need to know to make your voice heard by your Legislators. These folks will tell us the best way to write a letter that will state your concern in a manner to get attention.
Who better to help us understand what goes on at Legislative Day than Theresa Kosmoski, TFRW President, Carolyn Hodges, Past TFRW President, and Past GHC President, and Jan Ott, TFRW Deputy Regional President… they will also explain the 3 resolutions to be presented to the Legislature by TFRW that concern every resident of Texas. We have a jam-packed meeting lined up for you full of information and in case you haven't heard about it, there is a Video telling all we will play for you.
MARCH 8 is International Women's Day. Of course, Democrats are encouraging women to skip work, school, and other things they usually do all day. But let's show them that Republican Women are proud of their country and their importance in the workplace. Post pictures of you on Twitter and Facebook as you are working in the workplace, at a small business, or at home at #Republican Women Working. Don't let the left convince us that we are victims. WE are Strong, WE are proud, and WE work… We are Republican Women.
Don't forget to renew your Volunteer Deputy Voter Registrar Certificate in one of the many classes being held in every county….if you have
been a Registrar in the past, your certificate has expired on December
31, 2016 and you need to renew NOW.
Hope to see all of you March 21 for our next, great meeting… come early to meet new friends and see others you haven't seen for awhile. I always enjoy the chance to see you and get acquainted with our new Member Club Presidents and their club members.
Stay safe and above all, stay sane even when the world isn't!!!!
Cheryl Dalton
President, Greater Houston Council
Republican Women of SJC

Board of RW of San Jacinto County

Kingwood Republican Women

Republican Women Club of Katy

West Pearland Republican Women

Magic Circle Republican Women
GHC Meeting Dates
General Meeting: 9:30am
January 17, 2017
March 21, 2017
May 16, 2017
Oct. 6, 2017 (11:00am)
November 14, 2017
Executive Meeting: 10:00am
January 6, 2017
February 21, 2017
April 18, 2017
June 20, 2017
August 15, 2017
September 19, 2017
Dec. 12, 2017
Copyright © 2007 - 2017 by Greater Houston Council of Federated Republican Women. All Rights Reserved.
Custom Web Design, Website Maintenance and Web Hosting by: Texas Webmaster, LLC