Republican Events
Yellow Rose of Texas Republican Women
December 1, 2017
Location:
Grand Rose Events
19829 FM 2920
Tomball, TX 77377
GHCFRW Celebrates 55 Years
January 5, 2018
Location:
The Junior League of Houston
Spotlight
Montgomery County Republican Women made donations to several worthy organizations at its December meeting. Receiving contributions were the Conroe Hispanic Task Force, the Conroe High School Republican Club, the Magnolia High Schools Republican Club and the Caney Creek High School Republican Club.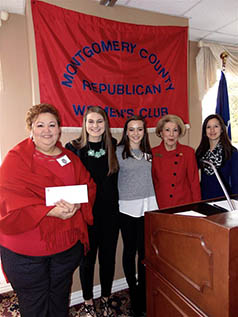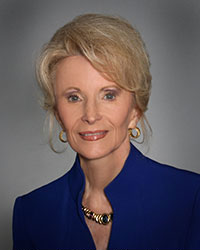 PRESIDENT'S MESSAGE
During and after Hurricane Harvey came to shore in Port Aransas on August 25, Cheryl Dalton, President of GHC had been in contact with the Club Presidents of Council. In a conversation with one of the Club Presidents, Cheryl Draper, President of RWOYA, she told her how devastated their area was and how hard everyone had been hit. She stated that Port Aransas had been 'flattened'.  RW of Yoakum Area is a member of Greater Houston Council of Federated RW.
On Saturday August 26, Cheryl Dalton was contacted by Rachel Martin of the California Federation of Republican Women who said they wanted to help and send a donation of supplies to Houston asking where would be the best place for it to be used.  Cheryl conferred with Theresa Kosmoski, President of TFRW who responded to Rachel to send gift cards to TFRW to be distributed.  Several days later, Rachel then contacted Cheryl with news that they wanted to not only send gift cards but were holding collection centers in San Francisco, Los Angeles, and Sacramento and had supplies they were bringing to Houston for our area.
---
55th Anniversary Celebration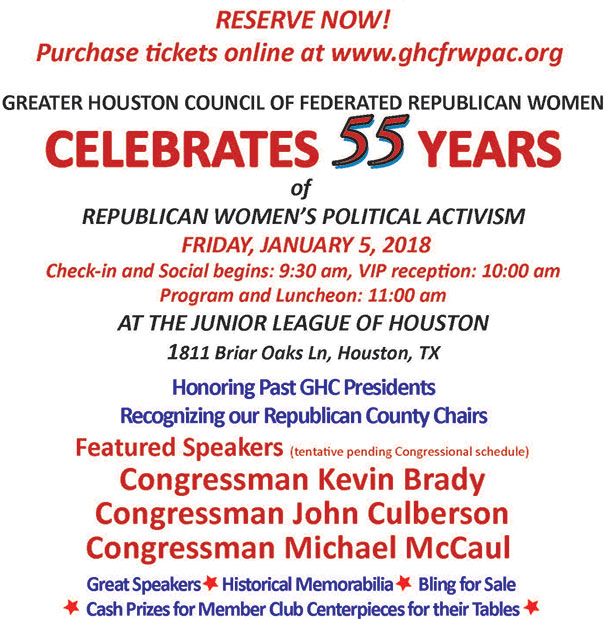 Republican Women of SJC

Board of RW of San Jacinto County

Kingwood Republican Women

Republican Women Club of Katy

West Pearland Republican Women

Magic Circle Republican Women
Member Club Events
GHC Meeting Dates
General Meeting: 9:30am
January 17, 2017
March 21, 2017
May 16, 2017
Oct. 6, 2017 (11:00am)
November 14, 2017
Executive Meeting: 10:00am
January 6, 2017
February 21, 2017
April 18, 2017
June 20, 2017
August 15, 2017
September 19, 2017
Dec. 12, 2017
Copyright © 2007 - 2017 by Greater Houston Council of Federated Republican Women. All Rights Reserved.
Custom Web Design, Website Maintenance and Web Hosting by: Texas Webmaster, LLC