Republican Events
GHC General Meeting
May 5, 2020- Cancelled
State Convention
July 13th-18th, TENTATIVE and subject to SREC approval
National Convention
August 24-27, 2020 in Charlotte, NC.
Spotlight
Welcome to GHC's newest club - the Central Houston Republican Women's Club!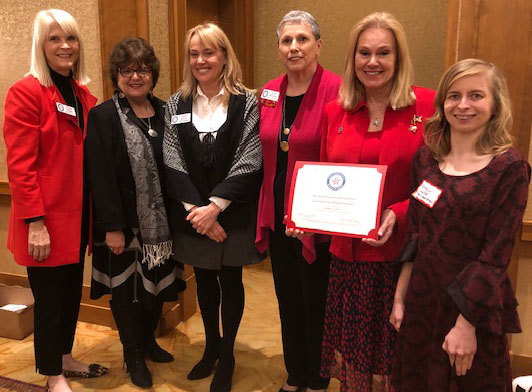 To our GHC family,
As the impact of the Covid-19 Corona virus continues in our communities, we have been notified that our meeting facility has extended the cancellation of all events to at least May 4, 2020. This will prevent us from being able to go forward with our May General Meeting, so the May 5th meeting is cancelled.
Your GHC Board has been meeting via video conference, and will continue the work of the Council through electronic means while the governmental restrictions continue.
GHC club presidents and board members will be receiving the 2020 President's Handbook and Directory via mail in the near future. Also, we will publish a May 2020 Newsletter, so please send in your reports and any club information you'd like included to Tina Gibson tinamgibson80@gmail.com by April 30th. We will also be setting up a public GHC Facebook page for announcements, so please look for that soon. And, remember to also check the GHC website for information https://www.ghcfrwpac.org.
The entire GHC Board is thinking of and praying for you and your families during this difficult time. If we can assist you in any way, or if you have any questions or concerns, please email me at ghc2020prez@aol.com. In the meantime, keep the faith, stay informed and be safe!
With warmest regards,
Sophia Mafrige, GHCFRW President
Email: ghc2020prez@aol.com
Posted on April 4, 2020
GHC Nuts and Bolts 2020: Club Presidents Who Were Honored

GHC Nuts and Bolts 2020: Planning Committee with TFRW President, Glynis Chester

GHC Nuts and Bolts 2020: Keynote speaker, Texas RNC Committeewoman Toni Ann Dashiell

GHC Nuts and Bolts 2020: Gift presentation to immediate Past President, Cindy Siegel, by Past VP of Programs Alice Melancon

GHC 2020 PowerUp 2020 Finale with the Crowd Singing God Bless America

GHC 2020 PowerUp 2020 Auction Constitutional Chair Donated by Rep. Jim Murphy

GHC 2020 PowerUp 2020 Keynote Speaker Catherine Engelbrecht

GHC 2020 PowerUp 2020 Patriot Award to Engelbrecht with Munisteri and Siegel

GHC 2020 PowerUp 2020 VIP Reception

GOTV Forum: Diamond and Silk

GHCFRW Board with Diamond & Silk

GOTV Forum: State Senator Paul Bettencourt and Political Commentator Jacquie Baly

GOTV Forum: Sold Out Crowd

GOTV Forum: Kathleen Osborne, Congressional District 2 Candidate Dan Crenshaw and James Osborne
Member Club Events
GHC Meeting Dates
General Meeting: 9:30am
February 11, 2020:
Nuts-N-Bolts
Mar. 17, 2020: Cancelled
May 5, 2020: Cancelled
September 15, 2020
November 17, 2020
Executive Meeting: 10:00am
January 21, 2020
April 21, 2020: Cancelled
June 16, 2020
August 18, 2020
October 13, 2020
Copyright © 2007 - 2020 by Greater Houston Council of Federated Republican Women. All Rights Reserved.
Custom Web Design, Website Maintenance and Web Hosting by: Texas Webmaster, LLC