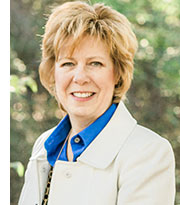 Dear Greater Houston Council Clubs,
Republican Women never rest, and the fruits of our labor have come to fruition this summer.
The SCOTUS ruling on states' decision on Pro Life issues is a major victory and Republican women have been on the front lines in the battle. The war will never be over because we have a nation to save for our children and grandchildren. We are ready for the battles ahead!
Republican Women came out in force at the RPT State Convention in setting the state platform for the next 2 years. It was great to see so many of our club members in leadership roles. Send us photos of your clubs at the convention for our next newsletter!
As we continue to celebrate our legacy in our 60th Anniversary year, GHC clubs will move forward as leaders, mentors, and example setters throughout the Southeast Texas region. Keep growing your club membership this summer. Keep your members informed and involved. It's block walking and phone calling time to support our candidates. Sign up for a Poll Watcher training class. The time is now to do whatever it takes to get our Republicans elected.
Please notify me of any GOTV events your clubs will be involved with or hosting this summer and fall. GHC will be there to support you.
The GOTV Rally is August 23rd!
Be sure to bring your club members to the GOTV Rally at the Mendenhall Center, August 23rd, 9:30 – 12:30. Lunch is provided so please RSVP so we can order lunch for you. All candidates are invited, from local school board and county to state and congressional races. Please RSVP Milinda Morris at milindammd@gmail.com and Dana Khan danak007@gmail.com. Let's get behind our candidates at the Rally!
Please put on your calendar our Greater Houston Council general meeting on Tuesday September 20th, 10:00 am, at Mendenhall Center.
We Are Leaders! Let's Get To Work!
Tina Gibson, GHCFRW President
---
Come out and visit with our local and statewide candidates from all the greater Houston area counties. Our candidate list is growing so please come out and support them, 9:30 – 11:30. Light breakfast is provided and lunch begins at 11:00. The program is at 11:30 with our RPT leaders.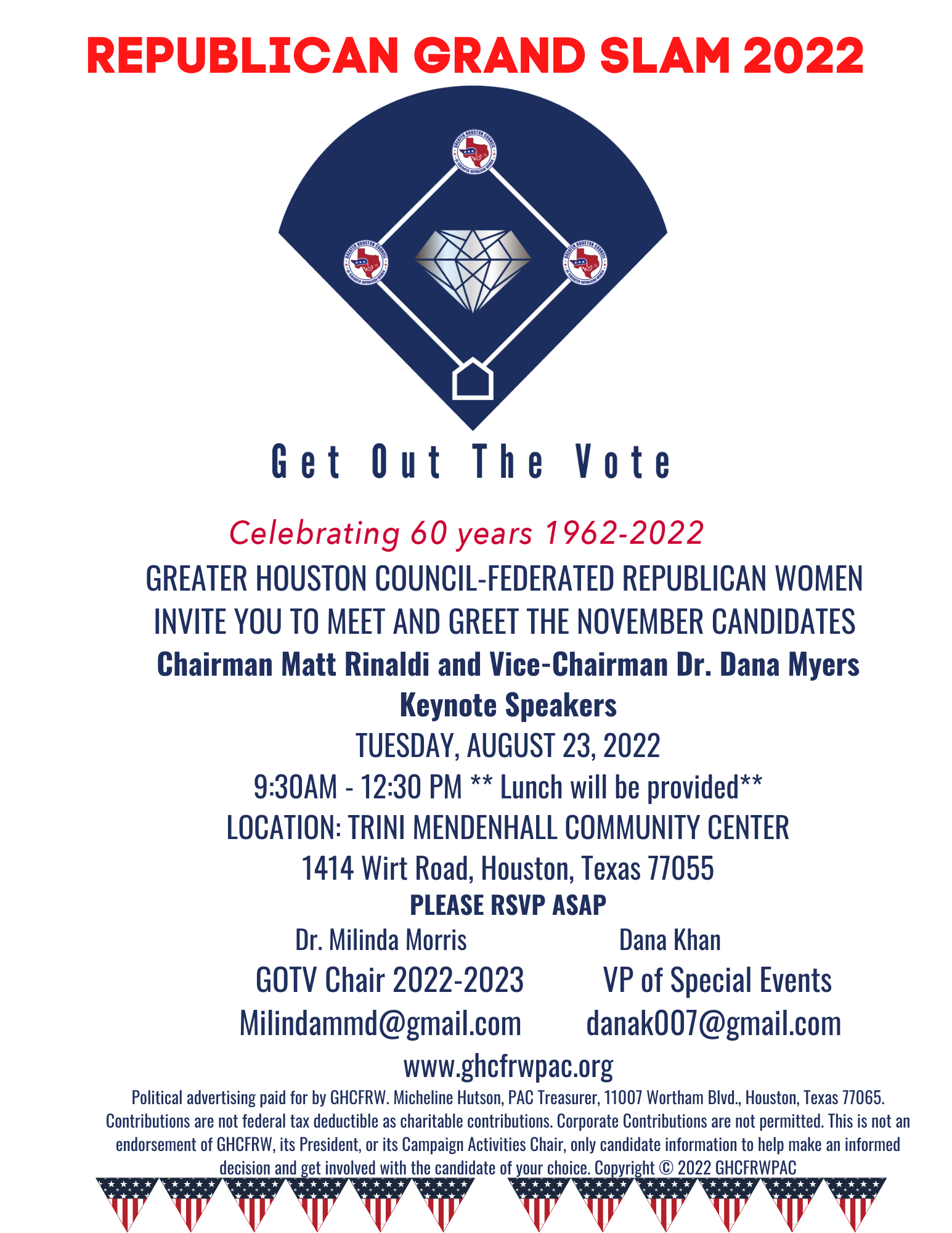 ---
Diamond at the Diamond Anniversary at Minute Maid Park a Big Success
Click here for more photos.
GHC Meeting Dates
General Meeting: 9:30am
January 18, 2022
March 15, 2022
May 10, 2022
September 20, 2022
November 15, 2022
Executive Meeting: 10:00am
January 4, 2022
February 15, 2022
April 19, 2022
August 16, 2022
October 18, 2022
Copyright © 2007 - 2022 by Greater Houston Council of Federated Republican Women. All Rights Reserved.
Custom Web Design, Website Maintenance and Web Hosting by: Texas Webmaster, LLC