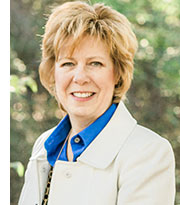 It has been a busy fall for GHC and our TFRW member clubs. After our hugely successful Hats Off to Republican Women celebration luncheon and our September membership meeting, we forged on to the TFRW Convention and finally the November 2023 election.
GHC was well represented at the TFRW Convention. The theme was "Iron Ladies Forging the Future". That title is so true for everyday experiences in our changing world. RW Clubs must hold on to our values in the present as we lead others to forge the future.
A word used a lot at the TFRW Convention was Unity. The well-ordered machines of our RW clubs must support our cause to get Republicans elected and bring more like-minded women into the organization. We can work hard as individuals to forge a brighter future for our state and country, but we can make a better impact by being united. Our values should never change but we may think differently on how we state those values to like-minded Republican women we want to bring into our clubs. Let's try hard to not use that word "RINO". It does nothing to unite us and does everything to tear our clubs apart.
As the GHC ad in the TFRW Convention program states, "Forging the Future Takes Courage", your clubs must always show the strength and courage to lead Republicans to win. We have a lot to lose if we don't.
GHC General Meeting November 14th
Veteran's Day Celebration!
Please attend our last GHC general meeting for 2023 on Tuesday November 14th at the Mendenhall Center.
Registration, lite bites and coffee at 9:30, program at 10:00 am.
Thank you to Hospitality Chair Edie Holland, West Pearland RW and Clear Creek RW for providing our snacks.
At our November meeting, Debra Coffey will be speaking about her family's 51-year journey to bring her father, Captain Robert Russell "Bear" Barnett, USAF, home, after he was shot down and declared Killed, Non-Recovered in Vietnam, in 1966. Mrs. Debra Coffey is Chief Government Affairs for Smart Start, LLC. Debra is very active in Texas Republican politics. She has served on the TFRW Board and served TFRW and her local clubs in several leadership roles.
Please invite any Veterans to attend this very informative and emotional meeting.
Bring Men's Socks and Gift Cards to support Camp Hope/ Camp SHiEld and PTSD Foundation
GHC will support PTSD Foundation Camp Hope and Camp SHiEld again this year by collecting men's socks packages and gift cards for Veterans affiliated with these fine organizations. VISA/Mastercard type gift cards are usually the best.
The election of the GHC Executive Board officers will also be held that day. Your club may have one of the nominees as a member! Please send your voting delegates.
Bring as many club members and guests as you can! As always, prizes for the most member clubs in attendance and other special club awards will be given.
Join us for lunch at Fratelli's after the meeting.
Thank you to those who have supported GHC and TFRW all year long and thank you for attending the Council meetings as delegates and representing your clubs.
We have a lot of events planned for 2024, including our Nuts 'N Bolts Workshop on March 26th and our biennial Get Out The Vote Rally on August 27th, so please put these dates on your calendars.
It has been my honor to represent you as your GHC President this term. Thank you for everything you do!
Tina Gibson,
GHCFRW President
---
---
Hats Off to Republican Women Luncheon 2023
Click here for more photos.
---
Original Nuts 'N Bolts Workshop 2023
Click here for more photos.
Member Club Events
GHC Meeting Dates
General Meeting: 9:30am
January 17, 2023
March 28, 2023
May 16, 2023
September 19, 2023
November 14, 2023
Executive Meeting: 10:00am
February 21, 2023
April 18, 2023
August 15, 2023
October 17, 2023
Copyright © 2007 - 2023 by Greater Houston Council of Federated Republican Women. All Rights Reserved.
Custom Web Design, Website Maintenance and Web Hosting by: Texas Webmaster, LLC